Innovative Animal Products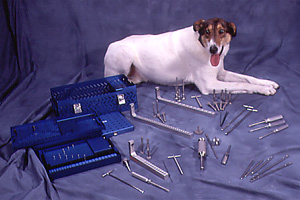 Interlocking nails are a refinement of the original Kuntscher Nail. An interlocking nail is basically an intramedullary pin secured in position by proximal and distal transfixing screws which engage the bone to the nail to provide axial, bending and torsional stability. This procedure in man generally involves power reaming and insertion by closed technique on a distraction table under fluoroscopic control. The Dueland Interlocking Nail System (IN System) however, needs no extra specialized equipment.
In 1989, R. Tass Dueland, DVM (University of Wisconsin) and associates began investigations to apply this human fracture modality to veterinary orthopedics. These investigations consisted of both mechanical and clinical trials to define the nail and instrumentation requirements. This research provided encouraging clinical results and resulted in the development of the IN System.
In comminuted long bone fractures, the IN System is useful due to the mechanical advantage of medullary implantation (i.e. mechanical axis) and prevention of collapse of the fracture by the interlocking effect. Ancillary cerciage wires reduce periosteal stripping and minimize disturbance to blood supply compared to plating.
The IN System was developed specifically for the veterinary surgeon to provide a practical surgical procedure requiring minimal ancillary equipment.
No power reaming required to insert the nail
Precise screw hole targeting without fluoroscopy
Compatible with AO cortical screws (no added screw inventory)

The complete IN System is composed of three separate models:
Model 22-6mm/8mm/10mm
Model 11-6mm/8mm
Model 11-4.0mm/4.7mm
The complete IN System offers greater flexibility and expands the treatment potential for a variety of long bone fractures.
The one piece jig is enhanced with a silk-screened screw alignment legend.
To accommodate variations in bone fragments, IN nails are available in 4 diameters, multiple lengths, and hole configurations.
Small Animal Nails: 6mm dia. using 2.7 screws 8mm dia. using 3.5 screws 4.0mm/4.7mm dia. Nails using 2.0 screws
Note: Large Animal Nails: 13mm dia. using 5.5 screws are also available
Innovative Animal Products
6256 34th Ave NW
Rochester, MN 55901
Phone: 507-281-1000 Toll Free: 1-888-551-4394
Fax: 507-281-8110
E-mail: [email protected]